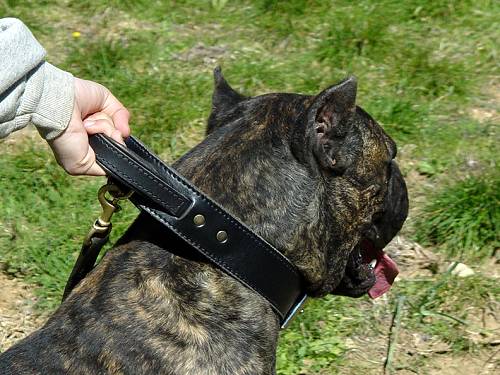 To those pet owners who want to switch styles and make their pooches appear different and attractive in the sight of many, there are a wide variety of dog items from collars to leashes that available in different stores online. Dog collars come with various styles from choke collar or obedience collar, flea collars, bark control collars to plain dog collars. And if you are concern of your pooch new look, which will you choose?
If you are going to take your favorite pooch to a special event or special gathering with friends and relatives, you want them to look the most attractive. And in order to achieve this, give him a fancy dog collar and an attractive leash. For small dog breeds, a simple flat collar will do the trick and as for large dogs, you can try the wide leather band.
The dog accessories market grew crowded because of many new dog collars, tags, leashes and clothing styles. They are the conventional types while others are unusual types. These items serve variety of needs and functions. As a pet lover, you should know that every dog breed needs different types of collars.
What Type of Dog Collar That Will Fit Your Dog?
The buckle collars speak of itself. They are really those collars that are fastened with a buckle. Buckle collars are made of nylon or leather and they are either rolled or flat. They are adjustable and they do not tightened on your pooch's neck when fastened. The rolled leather collars are convenient to use if you don't want hair breaking and chafing on your pet that usually occurs when using flat collars.
The quick release collars are basically the flat nylon buckle collars. The clip is closely similar to some luggage fasteners, which makes getting the collar on and off the neck a little easier.
The choke chains are the metal chain links available in various sizes. These collars must only be used when your pet is undergoing training or exercising. This type of collar is usually being sold by length, so you need to ask for assistance when you intend to buy a choke chain. The head collars should also be used in training.
Things You Need to Know About Dog Collars
You need to ensure that your pooch collar really fits well on his neck. The badly fitted collars and using them incorrectly can harm your pet and worst of all it can become fatal. The properly fitted collar can have at least two-finger space between the neck and the collar but it shouldn't slip over his head.
But if you don't like the
clinking sound of the dog tags
and if you worry about the metal tags, you can use a special tag pouch that is available in almost all of the pet stores.
For dogs used for hunting, pet tracking system should be used to allow the dog handler or master to determine what the dog is doing. The pet tracking system could determine whether your dog has stopped, or still moving, or if he barks or treed an animal. This is recommended if you go out for a hunting with your dog.
And lastly, you must pick a dog collar that fits your dog's personality and size. Forget about the style and fad, keep in mind what suits him best. And this must comes first.